Viadrina Center for Graduate Studies
Different Paths to Do a Doctorate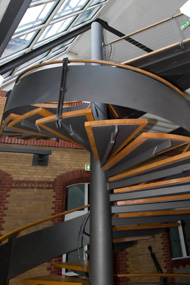 Individual doctorate or doctorate within a structured programme?
Individual doctorate
The individual doctorate is still the most common way to pursue doctoral studies in Germany. Its core element is a cooperation between the doctoral student and the doctoral advisor. You define and agree your dissertation topic with a professor, the so-called Doktormutter or Doktorvater, who will act as your primary doctoral advisor. Then you plan and implement your dissertation project largely self-responsibly, addressing the field of your research more or less on your own, of course guided by your doctoral advisor. Usually there is no fixed curriculum of seminars and workshops in which the doctoral student has to take part. The doctoral advisor may, however, recommend that the student attends to certain seminars, colloquia and the like.
The individual doctorate usually provides greater freedom e.g. concerning the choice of the subject, the organisation of the daily work and the time schedule. It offers plenty of space for your personal scientific development. However, an individual doctorate requires a lot of personal initiative, the ability to work independently, self-discipline and endurance.
If you want to do an individual doctorate – and actually most of the doctoral students in Germany and at the Viadrina choose this path – you need to find a topic for your research project and a doctoral advisor. The topic must be scientifically relevant and novel, and it must convince the prospective doctoral advisor. A professor will only accept you as a doctoral student if your proposed topic suits his / her fields of research interests and he / she still has enough capacities available.
Read more about necessary requirements for doctoral studies in the essential prerequisites section and about how to find a doctoral advisor in the how to prepare and apply section.
Doctorate within a structured programme
As an alternative to the traditional individual doctorate in which a professor guides and supervises a doctoral student on an individual basis more and more structured doctoral programmes are offered in Germany. In a structured doctoral programme the students are integrated in a specific study programme with a fixed curriculum of e.g. seminars, colloquia and guest lectures which prepares them for their research. The structure of the programme facilitates intensive exchange between the doctoral students and frequent contact with the doctoral advisor. Structured programmes usually employ a certain interdisciplinary field in which the topic of your dissertation must suit.
The Viadrina offers a number of graduate programmes (Graduiertenkollegs; link in German) in which the doctoral students take part in a systematically structured and interdisciplinary study programme.
Read more about essential prerequisites and how to prepare and apply in the next sections.