Viadrina Center for Graduate Studies
Information on Doctoral Studies at the Viadrina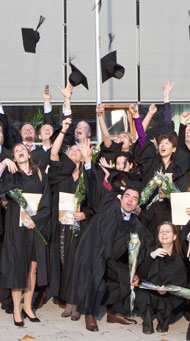 There are many good reasons for pursuing your doctorate at the Viadrina!
A doctorate in Germany mainly consists in independent research in a specified topic conducted by the candidate who is supported and supervised by a professor. The research and its results are presented in a written dissertation thesis. Finally, an oral exam follows the dissertation.
Generally, a recognised degree equivalent to a Master´s degree is a prerequisite for a doctorate (if you want to check whether your degree is recognised in Germany click here (website in German)). In your dissertation you are asked to go well beyond the academic efforts of your Master´s studies. That is why it is usually required that you completed your Master´s degree with superior results.
In Germany you can choose between two different paths to do your doctorate, the individual doctorate or the doctorate within a structured programme. The individual doctorate under the supervision of a doctoral advisor represents the traditional and still most common way to pursue a doctorate in Germany. Here, you define and agree your research topic with your doctoral advisor and then work on it individually. If you take part in a structured programme, you are integrated in a study programme with a certain general topical focus, often with a fixed curriculum, set terms and individual supervision. This difference is important! Learn more about the two paths to pursue your doctorate here.
At Viadrina, a doctoral degree can be attained in a wide range of subjects offered by the universities´ three faculties, i.e.
Please click on the links in order to obtain detailed information on the faculties´ study and research profiles and the professor´s main fields of interest. Each faculty has defined detailed regulations on doctoral studies. You find links to these regulations in the box on the left.
Viadrina offers a number of graduate programmes (Graduiertenkollegs; link in German) for doctoral students. In these graduate programmes the doctoral students take part in a systematically structured and interdisciplinary study programme.
In the following, we provide important information on essential prerequisites and how to prepare and apply for a doctorate at Viadrina.
If you have any questions on doctoral studies at Viadrina after reading these pages, please do not hesitate to contact us!