Viadrina Center for Graduate Studies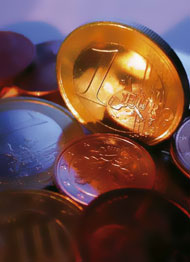 Money matters – doctoral studies need to be financed. It is difficult to assess exactly how much your doctorate will cost, because your expenses depend largely on the funds you need for your research and on your lifestyle. What kinds of costs do you have to expect in Frankfurt (Oder)?
Let´s start with some good news: At Viadrina there are no tuition fees save for a few Master´s courses. Most students, among them PhD students, are not charged tuition fees. Consequently, you only have to provide budget for the following three kinds of expenditures:
Semester contribution
Expenses for your research

Costs of living
Each semester, every student has to pay the semester contribution to the university. The semester contribution includes a social service contribution, a student body fee, a registration fee and the semester ticket. In return you are entitled to use the universities´ facilities including cafeterias and canteens offering cheap, subsidised drinks and meals. The semester ticket allows you to use local public transportation for free - not only in Frankfurt (Oder), but in the whole federal states of Brandenburg and Berlin. At the moment, the semester contribution is around 220 € per semester. Click here for more information.
Depending on the topic and field of your doctoral research, you might need funds for books, materials, field research, special technical equipment, travel expenses, conferences etc. The expenses for your research can only be assessed by yourself. The Viadrina Center for Graduate Studies offers support for some of these costs (see scholarships and funding).
The costs of living in Frankfurt (Oder) are rather moderate compared to other German cities. Depending on the type of accomodation you choose, the monthly rent is usually 200-250 € per month (for a single person). In total, 600 € per month will pay your basic needs in Frankfurt (Oder); many students here live comfortably on that. There are of course plenty of opportunities to spend more money if you happen to have more funds!